Wholestyle Bonus Roundup: Halloween!
---
---
(scary voice) oOooOOoooOooooOOoo! (waggles fingers)  It's Halloween!
Well, it will be on Saturday.  And to get you prepped for the rockin' weekend to come, here's a bucket full of tricks and treats just for you! [Good lord, did I just write that?  I think I need a drink...]
The best part of Halloween is all the junkfood.  Miss Corrine at Frock 'n' Roll has a list of five great ideas for all of you who aren't making it to the wild parties this year (like me).  Got a hard-on for sugar this time of year?  So does Irreference!  They've got great tutorials on how to make candy corn and candy apples, or you could go for apple cider doughnuts, courtesy of Smitten Kitchen.  If you're more in the mood for real food, try Not Martha's evil-looking handloaf.  And don't forget to mix yourself up some wicked cocktails, starting with some of Neatorama's brain shots!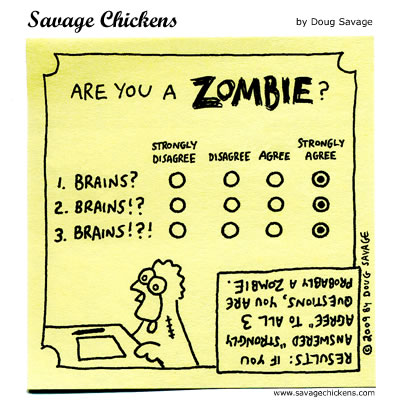 Do you know what you're dressing up as yet?  If you put it off to the last minute, we've found some quirky and quick ideas.  College Candy wants you to remember that Halloween isn't about being slutty and you should dress as such.  Nothing Elegant agrees, providing some very classy ideas, all focused around the great ladies of history.  If you're too lazy or uninspired to do any of those, you can always slap on a wig and pretend you're a stranger; Fajr from Stylish Thought tells you how!  But be warned – there are always costumes that are going to get you an asskicking.
And don't forget the entertainment!  Head out to a zombie pub crawl, like Sarah Von did, for a hilarious time. Martin Scorsese himself has given us the lowdown what he thinks are the scariest horror movies of all time.  If books are more your speed, check out the must-read list of gothic horror and terrifying tales from Nothing Elegant.  You could also check out the less-scary-but-always-fun Goosebumps books, the 10 best of which Topless Robot's so kindly picked out for you.
Or…if you want a special treat…you could always get your freak on with one of these blood-suckers: the Succu-Dry (for men) and the Vamp (for the ladies).
Happy Halloween, everyone!  Eat lots of candy, dress up, have a blast, stay safe!
---
---
3 Responses to "Wholestyle Bonus Roundup: Halloween!"