Category: Birdie's Adventures
Mister and I were talking about our recent trip to Vegas and about some of the tics and funny things you notice when you're playing table games. Craps, for example, is totally a fool's game, a poor investment, a waste of money and time, but there's a bigger lesson to be had at a Craps table than any money won or lost. The things you learn there are inadvertently applicable to life in some way.
For example…
Making friends is easy. What do you a have in common with a table full of strangers, other than the fact that you've all got your chips on the pass line? Absolutely nothing – but that's the great part. You only need to have that one thing in common (and sometimes maybe not even that if the goofball next to you is playing against the table) to strike up a conversation where you'll realize how much more that set of strangers has to offer. All it takes is a common scenario – everybody against the man – to create a bond within a group.
Remember, a smile can get you everywhere. That kid at the end of the table will try to roll just a little bit better if you flash him your best grin. A smile will bring out the better side in people – and scientific research suggests that a smile will bring out the better side in you, too.
Show up ready to play. If you show up, cynical about winning or losing or learning or any of that, you're going to kill the table, and quick. Your self-doubt is apparent. It's a catch-22, but you'd be amazed at how quick a game can go downhill if you're a "negative Nancy". Loosen up. I know you doubt that you're going to win, I know that you think you're never going to learn to play, and if you fake it a little, you'll be pleasanty surprised when you "make it" on a hot roll.
Part of faking it is playing along a little. You'll find a lot of superstition at a gaming table. Some superstitions are actually what keep people on the board. There are people who have a dice-rolling wind-up or those who like to blow on the dice before throwing them. Some people have a very specific way of stacking their chips to optimize their luck. Cheer them on while they're doing their thing, and be open to cultivating your own idiosyncrasies.  They will roll better if you're enthusiastic.
Fake it til you make it, and you may find yourself having a lot more fun. Let's face it, I know you don't really think saying "seven" is going to reflect the outcome of a roll of the dice, but saying it in a crowd of people who are also playing along is going to make you look like a jackass. It's part of that faking-it thing. Nobody needs to hear that each roll is independent of the others, making their little rituals useless. They're having more fun because they have something to believe in.
And on that note, each roll of the dice is independent of all the others. I know, I told you nobody wants to hear it said, but it's a good lesson to take away from the table. The world is not conspiring against you (save for maybe the casinos and that one jackass who keeps playing the don't pass line) and nobody is truly out to get you. Everything is an independent system with it's own independent variables that make it unique. Just because you crap out the first time doesn't mean you're going to continue to crap out til you're bankrupt.
Trust your inner voice.  I've seen people lose boatloads of money trying to play games strategically.  Though, there's something to be said for knowing what the dealer is supposed to do in blackjack, the decks are stacked in the house's favor.  The same is true in craps.  There's really only so much you can do to hang onto your hard earned dough (because the point of gambling is to spend all your money on frivolous entertainment, yes?).  More often than not, people who trust their gut instinct end up with the rewards.  If a table doesn't feel right to you (read: everybody looks like they're not having any fun), don't play.  If you wanna bet the field cos the player just rolled a five, go with it.  Just trust yourself.  I've seen people use strategy over intuition and they often lose.
The bad news isn't always bad. 7′s are good on the first roll, but bad when you're trying to hit a number. Boxcars (double 6′s) are terrible first rolls unless you're playing the field. And if you crap out, you're giving it to the next guy who's got a good chance of having the best roll of his life! There's always another way of looking at a crap situation (hurr hurr!) – you just have to find the right spin.
Last, know when to fold 'em. Kenny Rogers had that one right – though I think he was a little off on when to count your money (I mark mine so I don't leave with less than I had when I started).  When you're up, take your original money, put it in your pocket and leave it there.  Know what you have and what you're prepared to lose. Never chase your fortune; that elusive Lady Luck knows how to stay just out of reach. Just do what you know and what you're comfortable with; maybe try a new thing here or there, but don't bet the rest of your bank on boxcars hoping to hit it before the roller strikes out.
Have fun, keep an exit-plan handy, and what you don't know, you'll learn by just doing it.
(PS, Mr says this post is totally a "Cooney" – the kid who'd think nothing of deriving life-lessons from Craps.  Hahahahahah)
Did I scare you? You must be startled. You were like, "Who? What the eff was that??" Yeah, it's because obviously I've been out spinning in insanity while neglecting my blogspace.
In truth, I hit a wall. Fashion kinda started to meld together – it all started to look the same. I know other bloggers have felt that…
And then I'm trying to extricate myself from a weird situation at my day job that's requiring all of my daytime attention (read: I don't get lunches anymore, where I can spend my time babbling at the internet masses).
Besides that, we spent 3 of the last 6 weekends out of town. First was Portland for my birthday, then a week in between to rest. Then we hit Portland again for a good friend's birthday – which was so much fun. And I went with a couple of girls, so there was much shopping to be had. The boys could be off watching football, and we girls hit the Rack for some excellent finds.
Then there was a week or two in between (gosh, I can't remember!) where we saw a concert or two… And then it was off to Vegas for a weekend of madness, football, drinking and fun. We got to wander around the Plaza casino and hotel in Fremont – which is deserted, because it's closed for renovations. It was seriously zombie creepy. I found myself plotting escape routes as we wandered around in there.
We stayed on the 23rd floor at the Flamingo, which smells like coconut body oil and stale cigarette smoke. The room was slightly hilarious with quilted vinyl floor-to-ceiling headboards, salon lights, and a very pink glass bathroom… (pics to come).
We had dinner Saturday at Mon Ami Gabi at the Paris, which was delicious fun. We watched the game, I was pelted with Bloody Mary by a poorly thrown football (don't worry, if you don't let it dry, and soak in cold water, that tomato will come right out. I wonder if the vodka helped?). We won some, lost some, and generally had a raucous time.
This weekend is all about catching up. I have some photos to edit and post for Totally Blown Glass, Recycled LOOT!, and Bird & Belle.  I have some photos to take, some posts to write for both this site and Seattleite.  For now, it's delicious meals with the Mister and a little relaxation as I try to ease myself back into the routine of normal life.  Because sometimes normal, laid-back, relaxing routine is just what you need.
Hi Guys!  Time to toot my own horn and fill you in on what I've been doing outside of Bonne Vie…
As you know, I've spent a lot of time curating a lot things with Kimberlee from Deco Modiste.  Recently we've discovered we have a lot of scrap, a lot of unused or broken vintage to repurpose and a little free time.  We created this shop to off some of that excess and maybe make a little cash as well!  Right now, it's a little sparse, but we do have more to come!
Also, I made that banner and I love the shit out of it.  What do you think?
More work with Totally Blown – including the launch and administration of the Totally Blown Etsy shop.  I'm Dehanna's assistant and online sales gal.  I've been doing product photos here and there, and it's been a lot of fun!  Need gorgeous gifts from local artisans?  Let me know.  *wink!*
In addition I've been working a little with Recycled LOOT! Genevieve creates gorgeous glass jewelry out of the broken, otherwise unrecyclable pieces of art glass from local artisans like Totally Blown Glass.
I've been helping Genevieve set up the Recycled LOOT! Etsy shop as well, and helping out with product photography, so she's able to spend her time making delicious eco-friendly, repurposed, candy-colored glass jewelry instead of farting around on the computer.  You may remember I talked about LOOT! last Christmas.  Don't mind the banner though – that was a quickie, slapped together on Picnick (through Flickr).  Her jewelry is so much fun, and worth every penny.
Last but not least, I've been working with Dana from Sustalux, hoisting her vintage empire off the ground.  Currently we're working at LUXOutlet, where you'll find an array of fun vintage stuff at incredibly low prices.  I'm assisting everyone and their mother right now.  Yeehaw!
Whether it's the way you get ready in the morning, the relationships you keep, your New Year resolutions or what you're doing with your life, remember this.  And then, brainstorm how to step outside of this, and how to make it work for you.  You can change the cycle if you realize it for what it is.
Everything is a Cycle.
Last Post, I mentioned Planet Shoes sent me the J Brand Spring oxfords to try out.  And I mentioned I'd be posting what I wore…
I had a date with Mr to the Seattle Art Museum to see the Picasso exhibit.  We had our evening planned, complete with delicious sushi and a night à la musée.  Of course, I dressed up a little, because I got this amaaazing fox hat from Sustalux and needed somewhere to wear it.
I know, you're probably thinking "EW! FUR" and I think  it's okay because this hat is 50+ (?) years old (the interior lining is very 60′s).  I think this piece tells  a story of style in an era long gone – defining luxury in a way so vastly different from how we define luxury now.  And though we're so much more conscious about our environment, the luxury of fur still is carried over into today.  It's so anti-the-way-the-world-is now, yet we still have this antiquated statement of personal status in our present society.  It's a luxury that's even been mimicked through synthetic-materials, and the fashion world continually vocalizes on this ever-present trend – for fur or not for fur (let alone faux fur and issues of environmental damage and sustainability).  I think this hat tells a story… And before I wax too poetic, here's the rest of the outfit:
Pictured in:
Fox hat from Sustalux
Black scoop tee from Spun
Blue wool pencil skirt from Deco Modiste
Gray herringbone tights from Gap
Blue J Shoes Spring oxfords from Planet Shoes
Art Deco style Earrings from Mosey Dog
Blue lace overlay clutch from Torkiska Bags
Black geometric Paloma Picasso bangle from Tiffanys (A birthday gift from Mr!)
Black and silver wide belt from Charlotte Russe
And a close up of the shoes…
We arrived at the museum to an enormous crowd, stood in line for 10 minutes, and were told that the exhibit was sold out until almost midnight.  Super Bummer.  We weren't going to wait 5 hours to get into the exhibit so we marched across the street to our dinner date where we gorged ourselves on sushi and tried to decide what to do next.
I sighed over my sake and mused how fantastic it would be if there was something fun happening at Benaroya Hall that night.  Mister lit up and mentioned that they usually have Thursday concerts.  A quick check on my phone, and a mad dash placed us front and center in the auditorium to hear Gil Shaham play a Bartók piece on the 1699 Comtesse de Polignac Stradivarius.
It was like some magnificent joke – turned away from the SAM (the guy didn't even offer tickets to view the rest of the galleries, which were free that night – what the hell?!) we ended up listening to a violin virtuoso play an instrument a) made for the Countess who was favored by Marie Antoinette, b) made 300-something years ago by Antonio Stradivari, and c) that is worth more money than I can imagine seeing in my lifetime.  The violin came from Stradivari's "long period" where he changed the shape of the instrument by lengthening it without changing the sound, making that instrument even more valuable than other Stradivari.  And the Bartók wasn't bad either!
While we were out, I garnered polite stares, several compliments and strange looks.  It was exciting.  And warm.  And the hat sheds like you wouldn't believe, but it's beautiful and maybe a little magic?  Cos really, our adventure was a little magic – like some cosmic goof up that turned out in the best way possible!
I was contacted over the holiday break, by Planet Shoes who mentioned their long list of unique and hard-to-find brands and their a focus on green and environmentally friendly companies and products.  I always feel like "environmentally friendly" shoes means finding a lot of clunky hobbit-shoes.  I popped over to their site, and started browsing and I was so wrong.  I was caught off-guard by the vast array of great, totally-non-hobbity shoes they had to offer.  They offer, true to their word, a wide selection of really cute, eccentric brands alongside a lot of well known "Eco" shoes.
The J Shoes Spring oxfords caught my eye with the beautiful blue and gray contrast, and the short comfort heel is exactly what I need at the office.  Planet Shoes was gracious enough to send a pair of J Shoes out
About the brand: J Shoes truly combine art and footwear. Every J shoe combines aesthetics, comfort and a dash of funky fashion to create shoes that really stand out in a crowd. Funky boots with Victorian styling or fun shoeties that combine both patent and calfskin leather – the designers at J Shoes push the style envelope and come out with beautiful footwear.
Planet Shoes loves the J Shoes brand because: "…Every shoe has a detail that makes it really special. No two pairs really look alike and if you prefer a wedge or a kitten heel, a flat or stacked heel, you'll find a thoughtful and arty option. J Shoes aren't afraid of color and they assume that you want to make a real statement with your feet!"
My Thoughts on Planet Shoes: Though the J Shoes are not listed as one of the site's green brands, Planet Shoes has a definite commitment to being environmentally friendly – There was no extra packaging, bubble wrap, paper, etc., when they shipped my shoes.  They offer a lot of options from carbon offset and they're open about what they're doing to save the planet.  Their shipping is extra speedy and their customer service is great!  They offer free shipping on orders over $49, weekly giveaways, and they regularly have deals on the front page (not to mention their post Christmas markdowns).
Brands to love: They have an excellent brand selection including Dr Martens! (Including the Darcies.  But I'd like to see them in the other colors…), Fly London (One of the Wicked Whimsy favorites),  Poetic License, Blowfish (I have these, but tall!), and Appepaza (Another Wicked Whimsy fave).
Brands I think they need: Farylrobin, Naughty Monkey and Irregular Choice would definitely round out their stash of fun, quirky shoes.
About the Shoes: They showed up and they're gorgeous.  UNFORTUNATELY, I live in Seattle so I had to put a nonskid, rubber soul on them in place of the beautiful leather sole they previously had.  I knew the shoes would die an untimely and very soggy death if I didn't.  My local cobbler – the AMAZING guy at University Shoe Repair – did a quick job of putting soles on for about $30.  "NO more slipping!" he told me.  Sold.
I put the shoes on and FYI, straight outta the box, they are STIFF!  I wore them to the office anyhow, and they were a little uncomfortable to walk in at first – but I could tell they had become more comfortable throughout the day.   I'm glad that a good portion of my duties are done at a desk!  But they're cute as all hell and they look good with my recent BLACKBLACKGRAY wardrobe.
I wore them again on a date (with Mr, of course) where we had sushi and ended up at the symphony (because the Seattle Art Museum wouldn't have us – more on that later – with photos!).  When I put them on with tights, they were MUCH more comfortable than my first attempt a few days ago.  The toes pinch a bit, but I'm sure having them widened a little up front won't take very long, or very much dough.   It may have helped to go up a size, but I was concerned about shoes that were way too big.  I was able to wander around downtown in them – and the new soles were such a great idea because it was pouring.
Overall, the message is: I need to break these lovelies in!  Post haste!  Because they're way too cute to sit in my closet, unloved and unworn.  The leather has begun to soften, and the padding on the interior is really cush and soft.
Sit tight for a cute outfit photo featuring these shoes on Monday, my pretties!
It's been just over 4 months since Mister and I embarked on the marital journey. It's funny because it doesn't seem much different than before and people continually ask, "How's married life?" And I reply, "Same as real life?"
It's funny how little marriage changes reality, and the weird ways in which it does. I think I've learned a lot (cliché, I know…) about both myself and relationships in a four short months and we're still in ultra wedded bliss…
You are not your other.  Go shopping with your girls, and don't expect them to tag along.  You need your separate time.  You need that time away so you have a chance to miss each other.  Absence makes the heart grow fonder, and all that.  You are your own person and you are part of a whole.  The part of the whole won't grow if the two of you don't grow on your own.
That said, you should treat your other like they are a part of you.  I know this can be difficult sometimes when they're stinking up the bathroom and you're hell-bent on a bubble bath.  In the same vein you wouldn't want your other nagging about the giant pile of your shoes cluttering up the front entry, right?  In a word – love them how you love you.  It's the little things that add up.  It's not forgetting to care about them – not taking them for granted.
Arguments should be discussions, not fights.  Don't be afraid to talk to them, even if it makes you choke up, and tear up.  You've got the next how long that you have to hang out with this person?  (Not that that's a bad thing)  You need to know how to express yourself.   Oh, and going to bed angry is like setting the mattress on fire and trying to get a good night's sleep.  Honestly, nobody wants to clean up the ashes and rubble the next morning.  If you're in distress, take two seconds to imagine your partner as that person you fell head over heels with – that's not necessarily who they are when you're arguing with them, but that's still the person you need to talk to.
Does the garbage need to be taken out?  Do it.  Don't complain.  Get over it.  He'll notice.  I promise.  And if it seems like he never remembers to take it out… there's probably something else he does that you're forgetting.
Talk about money.  Talk about how you're going to spend it, talk about how you're going to save it.  Talk about each getting a little allowance for your own personal fun stuff.  I like shoes and I like having a little money of my own to spend on it.  Talk about how you're going to keep from going in the negative.  Talk about it and make sure your goals work together in the long term.
Which is my next point – plan, plot and strategize together.  Figure it out.  Solve together.  Problems, puzzles – another set of eyes is never a bad thing.
Learn to realize when you're wrong and be gracious about it.  Get over it.  Being wrong doesn't make you a bad person.  It just means you're now better off than before whatever "it" is happened.  And if he's wrong… don't gloat.  Maybe correct it, but don't dig it in.
It IS just the two of you.  Everyone else is a third party who's not within the confines of the relationship.  Any of their advice comes from someone who doesn't explicitly know/understand/care about your arrangement or needs.   Besides, you have a partner that you trust – why not just talk about it with them?
Make yourself happy (considerately).  Happy = sexy.  Sexy =  marital zest.  Get zesty!  Aim for your partner to be happy too, but remember, you can only do so much.
Love, Love, Love!  Act with love.  Walk with love; talk with love.  Make love.  Be love.  Gaw – I sound like Lennon.  Not such a bad thing, though, eh?
Got anything to add?  I'm sure I can use the advice.
PS – I suck at this.  Rabbit Write has much better relationship tips for you than I do!
2010 has been a big year for a lot of people, myself especially.  It was, in many ways, the year that defined.  I look back at posts that made me think, social media that connected us, and posts I wrote that really helped define la bonne vie for me.
Some of my favorite post thoughts this year were:
Made in China: to buy or not to buy…
Synchronicity: Dream big, little star…
Money Smarts and Budget Deficits… (for the econ scholars out there)
Go Ask Alice: Baubles! (and literature…)
When Words Attack: A guest post on IFB…
Fraud or Fair Gamble: Examining online auction sites…
Never Nude: Nude is an array of colors, not a specific color…
Fleeting Beauty: The world of Japanese Woodblock Prints…
Scent Story: Perception is everything…
Fall Inspiration:  We only have 2 seasons in Seattle, so I'm still feeling this…
And last… yesterday's 12 Rules of Change…
Those 12 posts really helped me define me, or define a mindset – and always with the best intentions.  Some of them are deep, some of them are worldly, some of them are pretty junk that rocked my world.   They're the 12 I grabbed – was there one in particular that caught your eye?  A great post I didn't list?  Let me know, babes!
I think I found this list on Psychology Today and because I know we're all looking at our Resolutions for next year, I felt it was appropriate to post today.  Do you want to change something about your life?  Is there a goal that eludes you?  Try this, and it just might stick!
Break down your behavior into chunks – Look at the little pieces of your behavior, these small bites are what you're going to tackle, one by one.   You might find that changing a behavior has a lot of implications.  Changing your name, you know, isn't just going down to the County building and filling out some forms.  It's changing your driver's licence, changing the name on your bank account, changing the name on your light bill and your vehicle registration and your passport and, hell, even your college transcripts.  This will help you take baby steps to gradually work towards an end goal.  Logically sequence it out:  First things first you have to actually change the name, the next thing you need to do is hit the Department of Licensing, because your bank wants to see valid ID to change your name there.  You get the picture.
Examine the consequences of not changing – Look, is this thing you want to change really bad for you?  How does it affect you?   Do your friends balk at taking you places because you curse like a sailor only to offend soccer moms and old ladies?  Without seeing the consequences of your action, changing the action loses relevance.
Make your change slow but steady - Start with saying, "I'm going to do this one small additional thing, each month, to work towards my goal."  Maybe it's that you're going to hit the gym every other Tuesday in January.  Then in February, you're going to hit the gym every Tuesday.  Be consistent with how you add on those tasks you want to accomplish.   I hate to say its like training puppies, but the best way to teach your dog not to chew the plastic tabs off the end of your shoelaces, is to consistently keep them up and out of his way.  I learned that one the hard way, and now I have several pair of shoelaces to replace.
Be realistic about what you truly can accomplish – You're not going to go from tone deaf to American Idol overnight.  Setting unrealistic goals only discourages your progress.  Be kind to yourself and realistically set goals that you CAN achieve.
Enjoy the act – relish in reinforcing change.  You know that thing about hitting the gym on Tuesdays?  Don't complain.  Instead, be proud of yourself for going even when you feel like just sitting on the sofa with a pint of Chunky Monkey (You know, that's MY favorite thing to do, too!) You also should enjoy the outcome – reap the reward of change.  So when you are hitting the gym every Tuesday, don't feel bad for having that scoop of Chunky Monkey after dinner.  Also, relish in how great you feel after you go.  Oh, and definitely compliment yourself when you realize how great your derriere looks in those jeans.
Reward yourself (but not in a way that directly conflicts with the behavior you're trying to change) – So say you have a shopping addiction that you want to break.  Don't reward yourself for not shopping for a week by shopping with the girls on Friday.  That's like taking one step forward and two steps backwards.  Reward yourself instead with a decadent bubble bath (and this is the part where you're like, "Well SOMEONE has to buy bubble bars from LUSH!" and I'm like, "You're ruining my narrative!  And you probably already have several LUSH bubble bars!"), or take yourself out to a nice meal.   Just don't let THAT become your replacement habit.
Simplify the thought process – You have some grand scheme where you buy a new gym outfit.  This is going to motivate you to get up at 5am, have a protein shake, and then go to the gym on Tuesday.  Then you're going to come home and try to get ready to get to work on time.   OR! How about this simpler method?  You're going to go to work and then hit the gym when you get home and are not rushed to do stuff.  Oh and is that cute gym outfit really necessary?  Really?
Prepare for problems – In all honesty, you're probably going to slip at some point because you're human. Anticipate safety nets where you can.  Your shopping addiction got hold of you at the last Ruelala designer final sale, but you're not going to be eating ramen for the next week, because you saved a little extra last month.  This also means, Keep Calm and Carry On.  Just because you slipped up a little doesn't make you a bad person.  It also doesn't give you free license to abandon your resolutions.
Appreciate and be mindful about the journey.  Monitor your behavior.  Journal it out if you need to.  Make a blog post about it!  Enlist your friends to help – even if it's just one of them to pat you on the back.  Know what you're doing is going to better your lifestyle.  Believe!
Remind yourself of your plan to change – constantly and consistently.  Yeah, consistent.  That word keeps popping up.  Buy yourself a pack of post-it notes and a pretty, sparkly sharpie and motivate thyself.  Tie a string around your finger so you don't "accidentally forget" to do that thing you need to do to get the ball rolling.
Control the environment - set the stage for success.  You know if you're going to cut out sweets, you can't have that roll of sugar cookie dough in your fridge.  Make those bad boys, have ONE, and then give the rest to your friends.  And then don't buy any more, because if you do, you know you're back at square one.
Practice! And celebrate the small successes.  If you don't, this won't be any fun.
Try this set of steps to get to that dream goal …  there are only 12.  That's like, one step, each month.  Take as long as you need, or as little time as you want.  Go get 'em, Tiger!  For me?  Maybe it should be blogging, eh?
Having a hard time thinking up good resolutions?  Go here and play with this: Resolution Generator
PSSSST! Bonne Vie has a Facebook page so you can keep updated on when I do (or do not) post.  Check it out!
It's Cyber Shopping week and every retailer has got quite the deal for shoppers; with Christmas around the corner, how could shoppers NOT be interested in great deals. Among all the ruckus, though, it can become hard to find all the signature pieces – that something special for that certain someone.
If you look hard, you can find some great new-old pieces and gorgeous vintage gifts for you and yours – LUXoutlet on Etsy is one of those places. They have some fabulous finds for the vintage lover, or that girl who sometimes secretly shops for herself during the holidays.
On My Wishlist: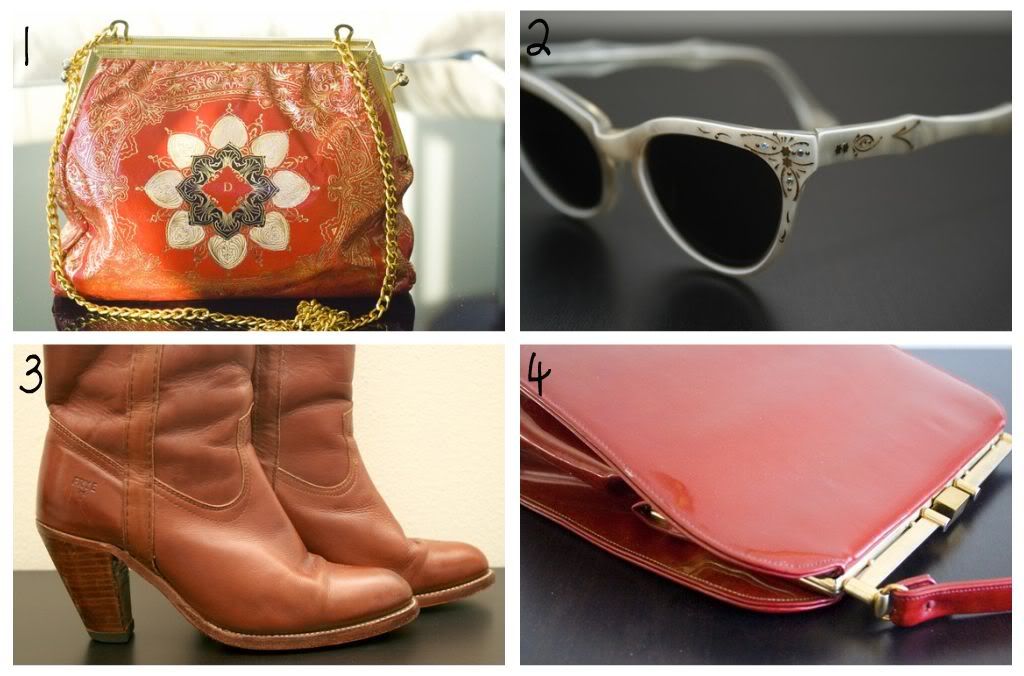 Images courtesy of LUXoutlet
1. RESERVED for etsuneko Vtg Guilded Scarlet Letter Bag by LUXoutlet
2. VINTAGE 50s 60s RARE WHITE Mother of Pearl Sunnies by LUXoutlet
3. VINTAGE Frye Western women's boots size 95 by LUXoutlet on Etsy
4. Vintage Metallic Cherry Box frame Bag by LUXoutlet on Etsy
Vintage sunnies never go out of style, and what girl doesn't want a gorgeous, luxurious designer leather wallet?
LUXoutlet isn't just another Etsy vintage seller – it is the result of a life-long reverance for fashion & it's makers, a shopping addiction, and the joy that floods a room when someone finds their new favorite piece. They focus on vintage because they've found a quality and authenticity in each piece that you can't often find these days. Their pieces come from an era when each piece was envisioned and constructed by the designers themselves along with a team of patternmakers and seamstresses – not like the machine-made designer apparel of today. At LUXoutlet, they have a tremendous respect for their work and take great pleasure in sharing their visions of the past with the fashionably concious of today.
Dana, from LUXoutlet treasure hunts night and day for the *special* pieces that clients and customers can't live without. It's a labor of love; just to bring you the best of past and present. She's more concerned about the quality of the garments than their labels. LUXoutlet offers high-quality, stylish pieces from any era, that are functional and wearable today.
For Cyber Monday, Dana at LUXoutlet is offering 15% off to all clients ~ this sale runs through the week!
Also if you're in Seattle, come down to the Closet Candy sale.
---