Retail Hell
Customer service is not what it used to be, for both shoppers and sales associates.
Mister and I were out shopping last weekend – Mister needed a new pair of jeans, and some shoes.  I needed to head down to Fluevog so I could have my Silverlakes re-soled, so I accompanied him downtown on his search for the elusive.
The one thing I always notice – IMMEDIATELY when I walk into a store – is the level of customer service.  Having worked in the retail environment for a number of years, I feel there's a certain base level of customer service required of sales associates.  It's the nice-but-not-overbearing-accountability – which simply entails realizing that you're there to make shopping experiences a pleasant thng; without you, these customers would be lost.  In contrast, your job would be lost if you didn't have these customers.  It behooves a sales associate to be genuinely helpful to customers, and it behooves customers to be courteous to sales associates.
A trip to the Fluevog store on Pine is probably the best example of excellent customer service – and I'm not kidding.  Every time I walk in, I'm greeted by someone wearing amazing shoes and at the very least, a slightly bemused face (it might be because I "SQUEEEE!" when I walk in and then just sort of drool all over myself at all the shoes).  I'll wander around the shelves for 5-10 minutes and then someone lets me know that if I need a size in anything, they'll fetch it for me.
The experience is perfect every time.  They tell me if the shoe runs large or small… they tell me when they'll get more in stock, or if they have to order it.  Really, the service there is unbeatable.  Getting shoes repaired is no exception.  When the acrylic heel on the Sliverlakes bit through the rubber sole on the bottom, they said they'd have it fixed, pronto – and they did.  It was a 3 day turnaround.
I believe, because of the level of customer service, I haven't seen anybody leave the Fluevog Seattle store with a frown.  Even in the days when Kimberlee (Deco Modiste) worked there – when I used to hang out among the shoes with the 'Vog girls , waiting for happy hour – the customers were all courteous and seemed to enjoy their experience.
When we walked into some of these downtown stores, we encountered an entirely different experience.  We went into 4 or 5 different stores and in only ONE location were we greeted by an associate, and later asked if we could be helped.  I'll personally attest to the fact that Banana Republic has a fair customer service training program, even if the sales associates don't always hit the mark, every time.  It seems, though, that not every store is employing this "help the customer" tactic.
It's easy for Mister to brush the experience off – he'd rather be left alone by salespeople until he knows what he wants.  Being a little shop-a-holic, I like saying "hello" to the salespeople.  When they seem approachable, I feel comfortable asking if this skirt sits funny, or if that top is too billowy.  Customer service representatives need to establish their approachability without being overly pushy.
It could be that not heavily enforcing customer service eases the fatigue of having too many salespeople "help" a client, or it could be that the sales staff are just generally tired of dealing with asshole customers.  And that DOES happen; as Scarlet noted in her "Holiday Spirit" post, working with customers is more often than not, a nightmare in the making.  This "asshole customer" doesn't crawl out of the woodwork JUST for the Christmas season.  Sometimes I cringe when I hear how customers talk to sales associates, or the sales management.
Experiences like these give rise to incidents like the ever popular "Not Always Right" and "Retail Hell", which often showcase the overwhelming ignorance and mean spirit customers have towards sales associates.  Sometimes, it's as if those customers think that retail or customer service positions are beneath them, so they have the right to press inarguable demands on businesses – via sales associates, staff and managers.  It's a lot to put up with when you know you have to clean up a store, trashed by a long sales day.  You have to wonder if anyone knows how meticulously a retail location is set up, and how long it takes to clean up at the end of the day.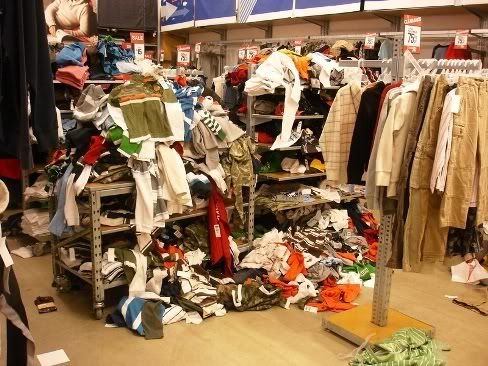 (From HellboundAlleee on Photobucket)
That's like… a good hour's work right there.
I've seen sales girls crying among bins of back-stock because of the way customers have insulted them.  I've been scolded for notifying authorities of shoplifters in the store – who were taken from the premises in handcuffs, while security pulled item after item out of the shoplifter's backpack.  I once was berated while ringing up a customer because it was my second day on the job and I had forgotten a "dollar-off" coupon for Oreos on a $200 receipt.  It doesn't happen at only larger retail locations; there's been outcry among some smaller business owners at customers' bad behaviors – everything from asking for ridiculous discounts to verbal abuse.
The incentive for sales associates to be at top form is often nonexistent.  Sales associates' performance is often based on metrics, and in some scenarios, you aren't scheduled for hours if you can't make large-ticket sales.  Retail doesn't often pay well, and managers are required to push sales associates for ever-growing volume expectations, in the hopes their store will achieve some sort of merit.  The perks are few – sales associates may be given discounts on product, but with the catch that there's a "fashion-forward-style" to be maintained while on the sales floor.  After a while, as a retail salesperson, you realize that your paycheck is all in the closet you're required to keep, to maintain appearances.
The last thing these hard-working individuals need is impolite customer experiences.   But when salespeople are chatting and fully ignoring customers in their sales area?  I can understand feeling a little off-put, and the disdainful way customers treat these customer service representatives doesn't seem so harsh after all.  The problem is entirely cyclical.  If customers aren't polite, sales associates won't be inclined to be as polite, providing lesser customer service.  If sales associates aren't inclined to be polite and helpful, customers will endure torturous shopping experiences.  It's a model where EVERYONE loses.
What should you take away from this?  Put on a smile, and treat those you interact with in the retail world as equals.  Shopping experiences have become less-than-desirable; it's no wonder more shoppers are turning to online solutions.  Terrorizing sales associates and undervaluing shoppers are so out of style.
That's just my $.02
Edit: I received a great comment below from Sheena of Clandestine Chic. I wanted to share my response to her comment, for those of you who only skim the comment section:
We had the same thing happen at Macy's – Mister wanted to try some shoes on, and instead of doing the stock check, the guy just went to the back and looked and said he didn't have Mr's size. We left the department to find him some denim and came back about half an hour later, hoping we would find a different sales associate. Unfortunately we got stuck with the same guy, and I asked if he'd do a stock check to see if the shoes were at the Northgate Macy's. I was surprised when he said that the shoes were somewhere in the building… and then came back with the box in the correct size, saying that the shoes were just stocked in the wrong section. He didn't even offer to look the first time, and we almost left the store without shoes for Mister.